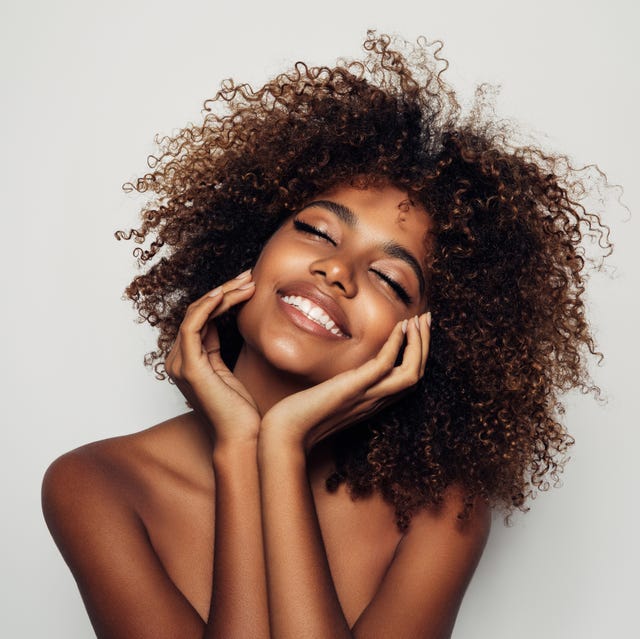 CoffeeAndMilkGetty Images
Look, I'll be honest. Daily, there's a war waging between my impatience and my laziness. Yes, I could walk to the drug store that is literally feet away from my front door and pick up some skincare products there. On the other hand, I could also sit on my bed, buy some products online and wait for them to arrive. Of course, there are pros and cons to both. Then again, I could also just buy my beauty must-haves on Amazon, wait maybe a day instead of a week, and not have to move at all.
You might think that Amazon doesn't have the best of the best beauty-wise, but oh, you're so wrong. If you're looking to buy skincare online, Amazon is the jackpot. So whether you're eyeing a drugstore cleanser or that crazy expensive moisturizer you saw a friend buy, Amazon is probably the place to look either way. But who has time to scroll for ages and ages to find the product you're looking for? Below, find 25 of the best skincare products Amazon has to offer.
1
UV Clear Facial Sunscreen
This is the favorite of supermodels and actresses for a reason. It's invisible, barely-there, and works. Similar to me in middle school.
2
Skin Perfecting 2% BHA Liquid Exfoliant
Paula's Choice
amazon.com
$10.00
I mean, who has the time to deal with acne and wrinkles anymore? This nifty liquid gently exfoliates pore-clogging annoyances so you can have a Clear Face Summer.
3
Kale + Green Tea Superfood Face Cleanser
Youth To The People
amazon.com
$39.00
Just a quick explainer on how good this cleanser is: It's so good, I actually get excited to wash my face at night just so I can use it.  
4
The Dewy Skin Cream
You know you've been dying to try this moisturizer for the past two years, so just bite the bullet and click purchase. Take it from me, it's actually amazing.
5
Spritz Mist and Glow Facial Spray Collection Trio
Mario Badescu
amazon.com
$21.00
You say that you're just going to keep one and give the other two to your friends, but we both know that's a lie. Hoard them all and occasionally mist yourself like you're a cold soda in an advertisement.
6
Ready Steady Glow Daily AHA Tonic
REN Clean Skincare
amazon.com
$38.00
Has being inside for a full calendar year diminished your skin's glow factor? Yeah, same. This skin tonic gently exfoliates for a brighter complexion that will make your ex regret they broke up with you over Zoom.
7
Luna Sleeping Night Oil
I think the biggest Disney myth we were fed is that Sleeping Beauty woke up looking great. But maybe that's just because she slathered some of this nighttime oil on her face before being cursed or whatever.
8
Caffeine Solution 5% + EGCG
The Ordinary
amazon.com
$12.00
Maybe it's because I eat salt or drink wine, but my face in the morning is basically a giant inflated mess. This product is technically a caffeine-infused contouring serum for puffy eyes, but I like to put it everywhere just in case.
9
Ultra Facial Cream
This moisturizer became a cult classic because it just works. Put on a little bit for oilier skin, and slather it on thick for lizard-like skin (A.K.A., me). While you're at it, you might as well buy everything else Kiehl's makes because none of it is bad.
10
Glowscreen SPF 40 PA+++
Supergoop!
amazon.com
$36.00
You might think you hate wearing sunscreen, but that's just because you haven't tried this one yet. It's mostly invisible except for a fine glow that makes you look like you just got a facial.
11
All Purpose Skin Cream
Egyptian Magic
amazon.com
This cream is like a balm-to-oil moisturizer that will cure even the most stubborn dry patches. It's so thick and dreamy that I sometimes apply it to my elbows or cuticles just to give them some relief.
12
Alpha Beta Extra Strength Daily Peel
Dr. Dennis Gross
amazon.com
$150.28
In just four minutes, you can remove about a week's worth of dirt and grime that's built up on your face from pollution, makeup, and anything else you forgot to wash off. Your face will go from dull to glowy so quickly.
13
Hydro Boost Hyaluronic Acid Hydrating Water Gel
For oilier skin types that stay away from super thick creams, this lightweight gel-textured moisturizer will keep you hydrated but not glistening like a disco ball.
14
FAB Pharma BHA Acne Spot Treatment Gel
First Aid Beauty
amazon.com
$26.00
Don't let a pimple ruin your day. Plop on a drop of this treatment gel to soak up any gross stuff, unclog those acne-causing pores, and look better overnight.
15
Deep Cleansing Pore Strips
Give your brain's pleasure center a nice little reward when you take these off and see how many gross little guys have been forcefully pulled from your face. It's almost as satisfying as deleting dating apps from your phone.
16
Squalane + Peptide Eye Gel
Biossance
amazon.com
$54.00
Trick your boss into thinking you slept a full eight hours instead of procrastinating on that super important presentation. Dark circles? None here!
17
ExfoliKate Cleanser
Kate Somerville
amazon.com
$40.00
The skincare world is obsessed with this product and you should be too. Everything from acne to unwelcome skin texture is treated with this powerful cleanser.
18
Skin Vitamin C Serum
buttah. by Dorion Renaud
amazon.com
$39.00
For dark spots and pesky hyperpigmentation, this serum uses Vitamin C, collagen, and antioxidant heavy natural extracts to even tone for the best skin of your life.
19
Sébium Pore Refiner Cream
Bioderma
amazon.com
$19.99
So what if self love doesn't include your pores? This cream lessens their unsightly appearance and also acts as a great makeup primer, too. 
20
Indian Healing Clay
An oldie but a goodie, this deep cleaning mask pulls out gunk and grime from your pores like a vacuum minus the chore aspect. Add this clay powder to water or apple cider vinegar for a deeper clean and watch your skin transform.
21
Regenerating Cleanser
Tata Harper
amazon.com
$84.00
Even for someone as wary of physical exfoliators as I am, I have to admit this product is stellar. It's a little gritty without being aggressive, and makes my skin feel oh so soft. 
22
Skincare Oil
Bio-Oil
amazon.com
$25.96
Beloved by anyone battling scars of stretch marks, I have found that this oil is not lauded enough for its effect on dry skin. Not only does this nip dry patches in the bud, but it also evens out my complexion without breaking me out.
23
Retinol Correxion Deep Wrinkle Facial Serum
Stop! Put down the Botox needle! Designed to treat deep wrinkles–not just those cute crow's feet–this serum utilizes retinol to tighten and lift aging skin so it's youthful and perky again.
24
Brightening Face Mask
Remember when "face mask" was a skincare thing, not a global pandemic thing? Pour a glass of white wine, hop in the bath, and soak in these skin-brightening ingredients for a fresher complexion.
25
Hydrating Facial Cleanser
Who else hates that super tight, face-cracking feeling after using a cleanser that's way too strong? This lightweight and hydrating version from CeraVe leaves you so hydrated that you could probably go a few hours before noticing you forgot to apply moisturizer. 
This content is created and maintained by a third party, and imported onto this page to help users provide their email addresses. You may be able to find more information about this and similar content at piano.io