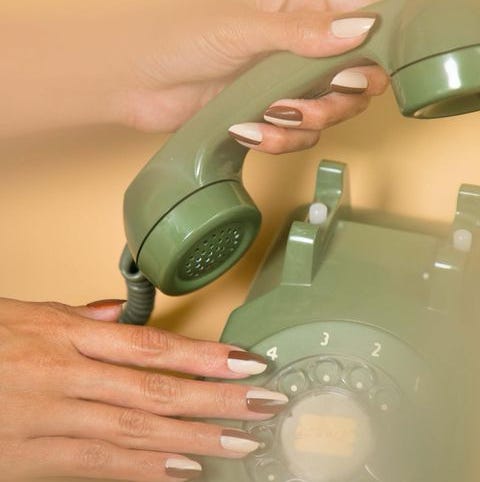 Chillhouse
Here's an overview of what happens when I try to grow my nails long: They start looking dirty almost immediately, they slowly move past my nail bed at a snail pace, and as soon as my nails get to a length where chicness is on the horizon, they break. Of course, I could head to a salon for some expertly done nail extensions, but who has the time?
Besides, as much as I love having long nails now and then, I can't deny that they make typing or buttoning up jeans slightly more complex. What I want is an easy, inexpensive, temporary set of claws that won't rip off the top surface of my nails when they come off.
Enter press-ons, once hailed by girls in the early '00s but quickly forgotten, along with low-rise jeans and butterfly clips. Seeing as we're having an early naughts revival, press-ons are once again back in center stage, this time with a new level of cool and chic that they didn't have a few years ago. Below, find nine of the best press-on nails that you can plop on and take selfies with all summer long.
Advertisement – Continue Reading Below
1
Round Pop-On Reusable Manicure Set
Static Nals
nordstrom.com
$14.00
For the manicure minimalist who doesn't want crazy designs or kitschy colors, these faux nails are so classic and cool that you'll want to get them in every shape and color.
2
Oval False Nails Geometric Lines Press on Nails Abstract
Don't sleep on the press on nail options on Amazon. These artistic designs are calling for an Instagram post starring you as the hand model. 
3
imPRESS Color Press-On Manicure
A classic in the press-on game, this set comes with 30 nails so you can be sure to find one that fits every one of your dainty fingers.
4
Checked Out Chill Tips
Chillhouse
chillhouse.com
$16.00
For a Gen Z design, these professional-looking press-ons are best suited to the ultimate cool girl who matches her nails to her Pinterest board.
5
Magic Press on Nails Stay Palm
Dashing Diva
sallybeauty.com
$8.89
If your nails are fragile and you're scared of using nail glue, these come with a gentle adhesive that lets the press-ons stay on without causing any damage.
6
Bubble Bath Press-On Manicure
For a glue-less press-on experience, this set comes in a classic pink color that you should definitely wear to that wedding you forgot you RSVP'd to.
7
Reusable Press On Nails
Glamnetic
amazon.com
$14.99
For a classic look, these nails are easy to apply, stay on for around 2 weeks (3 if you're being careful!) and come off easily with zero damage to your nail bed.
8
False Nails
If you're into a cool design that makes everyone jealous, these faux nails from Shrine are definitely going to set you apart from the crowd.
9
Press On Nails
Clutch Nails
target.com
$9.99
Throw on a pair of these press-ons before any event you have in your life to make a statement like, "Yes, I am cooler than you."
10
Selfie Luxury Artificial Nail
Tip Beauty
macys.com
$14.00
If you want to rock a manicure that isn't just a one-tone color, this set is for you.
This content is created and maintained by a third party, and imported onto this page to help users provide their email addresses. You may be able to find more information about this and similar content at piano.io
Advertisement – Continue Reading Below